Shhhh…
Don't tell my kids (ESPECIALLY my youngest, pickiest) but I've been doing something sneaky with their pancakes in order to make them a lil' healthier.
And the best part… I did it using only TWO additional ingredients!
I used to ONLY make homemade pancakes but here lately, I must've lost my touch because the last time I made 'em… yuck.
So nowadays, when we have our weekend family breakfast, I only do the store bought, prepackaged pancake mix with a slightly healthier twist.
How To Improve And Make Boxed Pancake Mix Better

The First Additional Ingredient: 

Yogurt
First, let's clarify a few things about what kind of yogurt to use.
You'll want a plain, full-fat yogurt (or as close to full fat as you can get) and yes, FULL-fat. Don't let me come to your house and see low or zero fat yogurt in your fridge.
Contrary to what you've been told, low/no fat does NOT equal healthier.  You NEED good, healthy fats in your diet and yogurt with all or most of its fat content is a great source.
What you want to watch out for is the SUGAR content.
Look for a full/high fat yogurt, high in protein, low in sugar – as low as you can find, as there will be some sugar content.
This is why I recommend plain yogurt – the less ingredients, the lower in sugar it will be.
Why yogurt?
Yogurt adds more protein than what's typically found in most boxed mixes.
The protein amount in the brand of pancake mix I buy is only 4 g per serving. And just so you know, two 4″ pancakes is considered one serving.
Granted, 4 grams of protein isn't terrible, but considering the fact that we're talking (super high-carb) PANCAKES here; the amount of protein can definitely stand a good boosting!
The yogurt I use has 11 g of protein per 1 cup serving.
Now, I don't expect you'd be using a full cup of yogurt unless you're making a huge batch of pancakes, but even 1/4 c. boosts the protein count up approximately 3 grams (2.75 g).
Other protein sources you can add
Not all protein types work well with pancake mix, but in addition to yogurt, a few more protein sources that could be added are:
protein or meal replacement powder
kefir 
buttermilk
nuts (example: pecans for pecan pancakes)
eggs or egg whites – this may change the texture of the pancakes and make them "eggier" UNLESS you use the kind of mix that requires you to add eggs, milk and oil.  Otherwise, if using the "just add water" mix, then again, adding eggs may make the pancakes noticeably different in texture.
oats – Like eggs, oats may change the texture of the pancakes.  If your kids are anything like mine and don't like the "nutty" texture, you may wish to forgo this addition if you're trying to be "sneaky" about it! But if they don't mind, oats do have 5 grams of protein per 1/2 cup dry.  If I were to add oats, I'd probably grind them up as much as possible in the blender to make it more "flour-like".
The Second Additional Ingredient:

Fiber
You saw how low the protein content was, right? Well, the fiber content was even lower at a "whopping" ONE gram!
Pancakes can raise your glucose levels considerably and even more so if you top them with sugary syrup, but adding fiber can aid in slowing down the absorption of sugar into your bloodstream.
Fiber also adds bulk to your stool so that it can move through your digestive system better – but you must drink water to help it along or else you may end up blocked & bloated!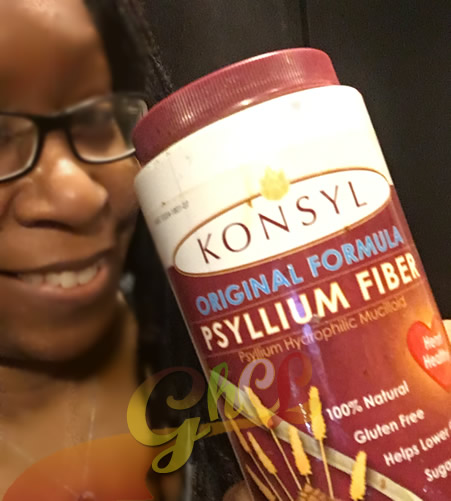 The fiber I use is a psyllium seed husk-based fiber that has 5 grams of dietary fiber and 3 grams of soluble fiber.
I don't add a lot and honestly, I don't measure… I just sprinkle a little bit into the mix before adding water.
The reason I don't overdo it with this is because, when it gets wet, it gets this slimy consistency and as I mentioned before, you don't want to change the texture of the pancakes so much to the point where it's noticeable IF you're sneaking this stuff in, as I'm doing.
Using too much of the fiber could make them become all gooey on the inside.  Oats can do the same thing if you use too much of that.
Other fiber sources to add
I did some research on high fiber foods and the ones that had the highest amounts of fiber… I wasn't too sure they would go over well in pancakes! lol
Things such as split peas, avocado (hmmm… perhaps), and lentils topped the charts.  So, if you can figure out a way to incorporate those items into your pancakes, have at it and be sure to let ME know how that worked out!
Otherwise, the following should suffice:
oats – remember, if you use too much it might make your pancakes mushy in the middle and nutty in texture, so use sparingly unless you and/or your family don't mind!
bran – might give that nuttiness we talked about earlier
apples (skin included) if you wanted to do perhaps an apple-cinnamon variety
almond meal (meal has the skin, which has most of the fiber… almond flour does not)
raspberries are very high in fiber (8 grams in 1 cup) if you don't mind raspberry pancakes, however; one common way to enjoy raspberries with your pancakes, is to make a topping such as jam or syrup.
Now, if you're making them healthier for yourself, you probably don't have to worry as much about texture changes, etc. unless you don't want them gooey/nutty either.
But play around with the measurements, adding only a small amount of each item. Then, work up to more the next time until you find that perfect balance that is just right for you.
*Bonus Tips*
Use real butter as opposed to margarine
Consider using real maple syrup as opposed to sugary, corn syrup-based syrups, or at least switch to Log Cabin Syrup, which doesn't have high fructose corn syrup.
Mix a little blackstrap molasses into your syrup to reap the benefits of the molasses.  This is an acquired taste with a flavor reminiscent of a syrup called Alaga!
Add a little ground flaxseed to your pancake mix for a boost of omega 3 fatty acids and to help slow down the absorption of sugar.
So now that you know how to make your boxed pancake mix at least a little healthier, the next step in making pancakes healthier would be making your own from scratch… or not, if yours comes out dry & yucky like my last batch did! lol
But making these few adaptions is definitely a step in the right direction towards improving your health one day… one step… one bite at a time! 🙂